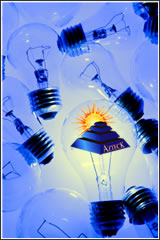 Innovation is the creative stage that breaks the deadlock and points to the solution.
Many innovators are slaves to a process or worse, to a single answer (often a product they wish to sell).
Azteck's innovations are all different - it's obvious; the problems and the clients were different.
We work closely with your team, proudly and confidently getting our hands dirty, while together we challenge preconception and create new and better answers.
Innovation is born of individual thought and facilitated in workshops.
Read about Awards won by Azteck and by clients for Azteck's advice