Interim Management
These days, businesses operate with very slim directorial / management teams. Individuals will have multiple responsibilities and large portfolios. This might leave little capacity to absorb special circumstances.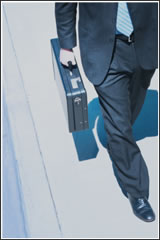 For many reasons, such as:

illness,
staff leaving,


create a new function,
turn-around an existing function,
improving performance,


extra-ordinary project,
special expertise needed,


the directorial / management team will benefit from a managed interim contribution.
Interim managers are experienced directors / managers who step into a role and take on the responsibilities. They focus their efforts on specific objectives and on achieving added value. The use of interim managers is a cost effective, efficient and convenient way to turn-around a situation and improve business performance. Interim Managers are often very experienced; they know exactly who they work for, and why. Yet, in spite of this level of experience, they are available at short notice and do not create an on-going liability for the business.
Experience and Expertise
Azteck's associates have enviable track records of contribution both in employed careers and now as independents. Working as an independent for 20 years, combined with a hunger for learning, leads to a powerful portfolio of experience and expertise. When an interim manager works with you, they bring a portfolio of expertise that a company is unlikely to achieve in conventional recruitment. This experience enables an intuition and cross fertilisation of ideas from past experience that delivers extra-ordinary benefit.
Working with Azteck has the great advantage that we can select an interim with the right expertise for your needs. A sole trader interim might be tempted to take on an inappropriate assignment. If we do not have the expertise, we will tell you and will help you find someone who has.
Classically, an interim manager is engaged for a period of weeks or months. Normally, client's staff report to an interim manager.
Azteck's interim managers have the back up from within Azteck to guide and lead the recruitment and selection process to find a permanent replacement.
Project Management
Project Management is a highly beneficial use of an interim manager.
Interim managers: leading the Team, experienced and taking responsibility; no on-going employment liabilities.
Case Studies
Major Department Turn-around, ( case study ).
Project Rescue, ( case study ).
Building & Operating new Manufacturing Facilities, ( case study ).
Learn about Aztecks unique TIPO process, ( article ).