John Bloor, then of PricewaterhouseCoopers, said a most profound thing:
"Azteck's expertise lies in the business circumstances and is sector independent."
John Bloor, Business Regeneration - Corporate Finance & Recovery, PricewaterhouseCoopers.
As another client put it:
"Azteck provides usable expertise for businesses with ambitions."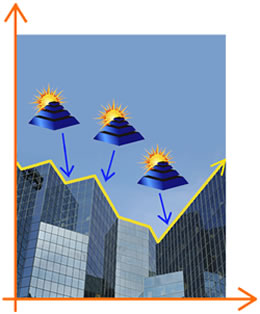 When to use Azteck

Strategy?
Strategic Planning.
Executive Development / Mentoring.
Frustrated by current Performance?
Profit; Efficiency; Cost Reduction.
Manufacturing Technology; Automation.
Troubleshooting; Innovation; Problem Solving.
Management Development; Culture Change.
Growing Pains?
Business Infrastructure & Business Process Re-engineering / Simplification.
Data Management.
Moving to a Higher Plane?
Lean Enterprise; World Class.
Accreditation to, Compliance with Standards and Regulations.
Implementation Resources?
Project Management.
Change Management; Continuous Improvement.
Technology Transfer.
Engineering / Manufacturing / Scientific Expert Witness, ( details ).
Read about Businesses Going Through Change.
Read about Businesses on the Brink of the Abyss.
Read about Businesses on the Threshold of Opportunity.