To remain successful, businesses must continuously adapt and change. Often companies do not have the breadth of expertise or spare senior management capacity to efficiently manage that change process.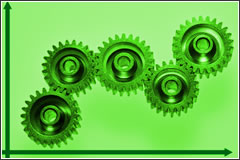 With little experience of the alternatives, it can be very difficult to manage change. Azteck contributes with expertise and many years of experience; clients benefit enormously from Azteck having met many situations before.
Azteck's work includes:
Relocation;
Restructuring & Succession Planning;


Management Development;
Stimulating the Culture;


'Growing Pains' response to Rapid Growth;
Business Process Simplification;


Manufacturing Improvement; Automation:
Improving Efficiency / Yield / Stripping out Cost;


Lean Enterprise; World Class; TQM (Total Quality Management);
Seeking Accreditation, such as ... ISO9000 ( H&S etc.);


Next Generation Products and Services;
Converting Inventions and Prototypes into Products;


Overseas Sourcing;
Business Sale & Transfer.
We understand that senior staff are probably doing 2 jobs; we agree a way forward and then 'make it happen'.