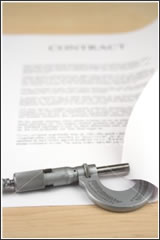 An Expert Witness investigates and reports their findings. The investigation may be of the circumstances surrounding an accident, or may be a technical investigation utilising laboratory and engineering apparatus.
While experts might be retained by one party, they have an absolute duty to impartially investigate and report their findings. Unlike witnesses, an expert witness may be asked for their opinion.
Expertise with Investigation
Many cases hang on a specific technical point. For instance: at first, a medical expert might be considered for a hospital bed patent dispute. However, the patent makes specific claims; in this case, that air passes through the fabric. It is now clear that the expertise required is that of measuring low air flow rates.

interpreting the core dispute issues / patent claims
formulating an investigation
robust conduct of the investigation
plain language presentation of science and engineering
Undiluted Expertise
The experts you brief will personally carry out the investigation. They: study the documentation; write the reports; and stand witness in Court. This robust approach ensures that your brief does not suffer dilution as it passes down to technicians. This is key to ensuring that the investigation remains focussed on the points of the case.
If one of our experts explains an investigation in a report or in Court, you can be confident that they carried out that investigation.
Failure to work in this way (as we observe with some organisations) might be considered to compromise their investigation and put their argument at great risk.
Fields of Expertise
While we each have extensive experience in our fields, Azteck's most valuable attribute is our ability to investigate scientific, engineering and technological phenomena.
These investigation techniques build on specific expertise in:

Mechanical Engineering
Electrical Engineering


Manufacturing, including Process Industries


Product Reliability
Patent Disputes


Management Processes such as Cost Recording.
Health & Safety and Risk Assessment
"Azteck's inter-disciplinary expertise has been a vital factor for the successful outcome"

Please contact us to discuss your needs.

Download this page as an article.